Serie La Stubetta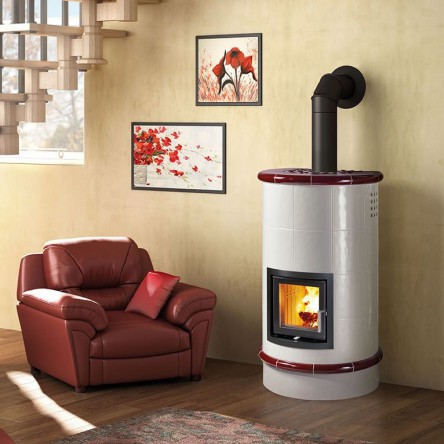 The Stubetta is designed for those looking for a small modern wood stove with the character of a real majolica stove, thanks to its beautiful ceramic tiles.
The Stubetta releases a natural and healthy heat, typical of wood heating.
Its soft style is reminiscent of the style of a traditional stove and includes all the advantages: complete and clean combustion, high efficiency, release of heating for many hours even after putting out the fire.
With La Stubetta you are the designer!
The Stubetta can be completely customized: choose the most suitable ceramic tiles and glazes for the style and interior design of your home.
Serie Armonia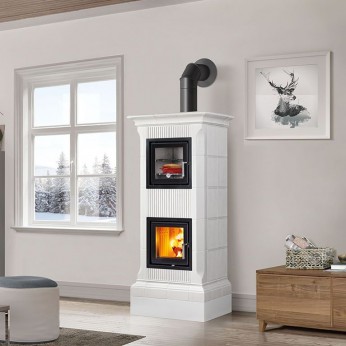 Harmony, our elegantly designed heat storage wood stove, has been developed to create a stove that combines seemingly opposite features such as high technology, design, small size and fast heating with low consumption and healthy heat for a long time.
The result is Harmony: a heating device, a heat storage stove and, at the same time, a ceramic stove that surprises with its efficiency.
With the Armonia stove, you can accumulate heat and radiation like a real wood-burning stove, with the simplicity of a pre-assembled stove ready to install. Its compact body, made of materials with a high heat storage capacity, allows the release of heat up to 8 hours after ignition in the fire.
It will be like a sunny day in your home!
Serie Sintesi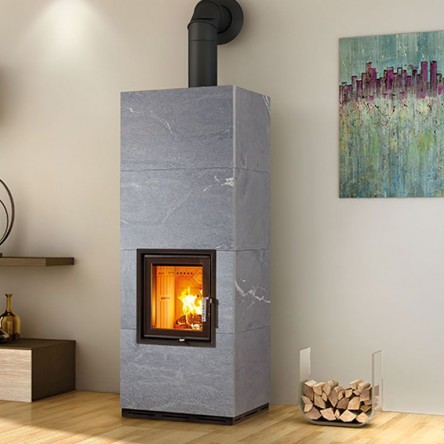 Sintesi is a high-efficiency wood stove, with a simple and linear design, perfect for lovers of minimalist style. Rationally conceived to enclose the benefit of radiant heat and radiation, it achieves an efficiency level of 88.5%.
A stove with a high level of efficiency, capable of generating healthy and pleasant heat for a long time: these are the objectives set by Cerampiù when developing Sintesi, the innovative design tiled stove, with the "DUOcalor" system to achieve maximum efficiency between the stoves of continuous fire.
Its large majolica surfaces are perfect for better expressing colors and surface effects.
CERAMPIU
MAJOLICA CRAFTSMEN AND ACCUMULATION HEATING SPECIALISTS
We have been producing ceramic stoves and heat storage fireplaces since 1992 in our production plant in Asolo, one of the most charming little historical centers in Italy, known as "The city of a hundred horizons" or "Pearl of the Veneto".
From the transformation of raw materials, air, water, earth and fire, majolica for stoves with unique shapes and decorations are born, the result of an authentic craftsmanship that makes our products completely customizable and suitable to satisfy the needs of style, design, well-being. and energy efficiency.
Each individual product contains all the technical experience acquired over time, which has allowed Cerampiù to equip its stoves and fireplaces with systems that guarantee high efficiency, savings and healthy and balanced heat for the well-being of the whole family.
The heat accumulating stoves, the tiled fireplaces and the small storage stoves are made with elements produced by hand and combined by our expert smokers. The exterior part, majolica, is designed to obtain a designer heating system, capable of adapting to the style that best represents you, without forgetting the well-being derived from the heat that emanates from it. The internal part, the most technological, takes advantage of the energy derived from combustion and then gradually releases it to the outside, with beneficial effects for the body and the environment.
THE CERAMPIÙ PRODUCTS:
THE STUBETTA:
The smooth line of La Stubetta recalls a classic stove, which adapts to any environment and style, without going unnoticed. Fully customizable, it won't limit your imagination.
HARMONY:
The classic and elegant style finds its maximum expression in the Armonia range of stoves. A high efficiency wood stove, ready and quick to install, that will surprise you with its performance.
SINTESI:
Sintesi is a line of stoves with a simple and linear design, designed with rationality to respond to those who love the minimalist style. Large majolica surfaces are perfect for expressing colors to the fullest and their effects on the surface.
CUSTOMIZE YOUR CERAMPIÙ STOVE:
COLOR:
Colors are a decisive element in choosing a tiled stove and that is why Cerampiù has developed a wide range of colors in which you can find the right combination for each type of room and furniture.
RELIEF:
The reliefs are born from the plaster molds. They come in a variety of forms, classic or modern, and they are pleasant to pet.
They are really curious tiles, even more so if they are decorated, which makes your stove a unique and precious object.
SURFACE:
Our complete majolica craftsmanship puts no limits to the continuous exploration and creation of new surfaces, with a modern and captivating appearance, designed to give even more character to your stove.
HAND DECORATED:
The decorations are freehand made by our master potters who transform each majolica into a true work of art. Get inspired by their creations and request the decoration made just for you.
CERAMPIÙ CHARACTERISTICS AND OPTIONS:
DURASIC®
The Durasic® accumulator rings were tested and certified, for performance and efficiency, at the research and development body (VFH) of the Osterreichischer Kachelofenverband in Vienna. A compact smoke circuit, perfect for obtaining maximum thermal efficiency from a wood stove.
KERAMFIRE®
The hearth of our stoves is lined with a particular refractory material called Keramfire®, an exclusive mixture of natural raw materials, studied in our laboratories, capable of withstanding high temperatures and thermal shocks.
HYBRID
The hybrid heating system, developed by Cerampiù, offers the possibility for majolica stoves to work in dual mode, wood or electricity. Ideal in combination with domestic photovoltaics, it guarantees greater autonomy, absolute savings and maximum comfort, even when you are not at home.
SMART FIRE
Smart Fire is an electronic system that regulates the stove's automatic combustion air flow, to optimize combustion and heat accumulation. Lay the wood, light the fire and close the door: these are your only requests for operations, Smart Fire does the rest.
OBJECTIVES ACHIEVED BY CERAMPIÙ:
Thanks to their technology and careful design, our stoves achieve the highest levels of efficiency and low emissions, positioning themselves in the 4-star merit category established by D. M. nº. 186/2017 and therefore can also be used in alert periods, in those regions that have recently introduced special anti-pollution measures.
The commitment we make with our products is to bring "well-being" to the home thanks to the radiant healthy heat that is emitted from the majolica tiles of our stoves. We reserve the same concern for our environment and it is for this reason that our stoves already fully comply with the highest standards of efficiency and emissions required by Ecodesign 2022.
Wood is one of the most important renewable heat sources that we currently have!
At Cerampiù we are very interested in protecting our environment, and that is why all our stoves are eco-sustainable. The combustion of firewood can be considered "CO2 neutral" since the carbon dioxide released during the combustion phase is equal to that used by plants during their growth.

You can call us at tel. 977 737 606, contact us or come see us. We will attend you